This summer I've decided to do something a little different and a little special. Starting last week, my novella, Shadow Between, can be found online on JukePop right here! So far, only chapter one is available to read, but that's what is so exciting. This will be a serial novella, meaning that every few weeks, I'll upload a new chapter for your reading pleasure.
You'll get the opportunity to read my story as it's created. That means you can let me know what you think as you read, make requests for what you want to see next, and chat about my story with me and other readers. It's a special opportunity to get a sneak peek behind the writing process. Also, this way you don't have to wait until the story is completed to read it.
Now, the Summer Writing Project is also a competition and I could use your help. When you click here and read my story, you have a few options. On the right-hand-side you can leave a comment and communicate with me. On the left-hand-side you can "vote" for my story and add it to your bookshelf. If you enjoy what I'm writing and want to see more, please vote, comment, and add Shadow Between to your bookshelf. If I do well in the competition, I have a chance at getting published.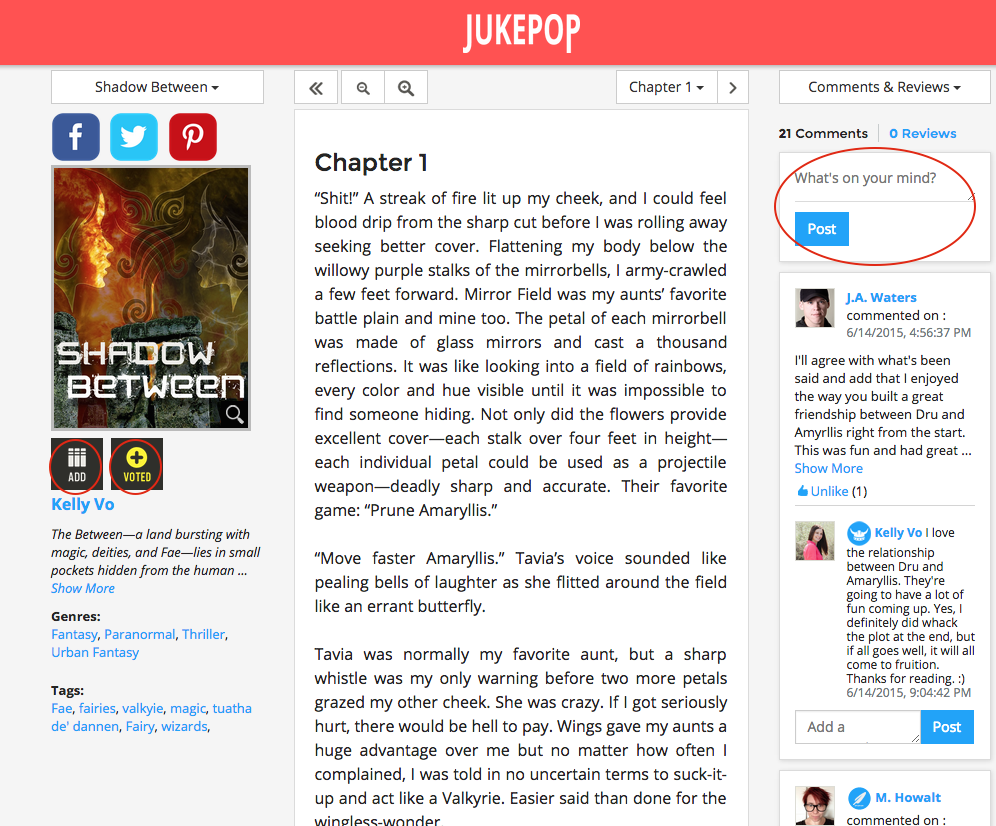 Not sure if you should read Shadow Between here's the synopsis.
The Between—a land bursting with magic, deities, and Fae—lies in small pockets hidden from the human realm. For centuries, the inhabitants of the Between have chosen to avoid the humans and allow them their ignorance.
Amaryllis, the wingless wonder, desires nothing more than to become the Valkyrie she was raised to be. But when Gods get involved, there's no telling what can happen. Armed only with a riddle and the promise of death if she fails, Amaryllis is faced with three diverging paths. And only one will give her what she's always desired.
Confronted by powerful wizards, fiery dolmens, and crazed humans it will take every ounce of Amaryllis' skill and training as a Valkyrie to succeed. But when every step could be the wrong one, she'll have to uncover the truth of her past and her future if she wants to live.
There are a ton of great stories on JukePop (@JukePopSerials) and I'm having a blast exploring a hundred different worlds. My good friend, Melissa (@Eulana), has an amazing story up as well. In a world where caffeine is illegal, what happens? Will it all come crumbling down or will we survive? As writers, we love our coffee. So it's fun to read about a world where our favorite addiction is taken away. Give her story a read and a vote as well. You can find it here.
I'm thrilled to share my story with you and I hope you're just as thrilled to read it.